The annual CIEX conference is taking place again on October 5&6 in Frankfurt, Germany. In the run-up to the event, we are talking to some of our key speakers. In our latest blog, Louis Vovelle, at Elkem speaks about his company's climate roadmap, circular economy, the importance of open innovation and the need for increased agility.
CIEX: Without giving too much away – what is the core message of your talk and what would you like delegates to remember?
LV: Elkem has developed an ESG strategy for a long time and last year, we presented our climate roadmap, of which the circular economy is one of the components. Circular Economy is a quite new domain for us but behind this subject, we are gradually discovering that it is not a question of providing simple technical solutions but of operating a systemic shift in our product/process design and also in our relationships with our partners (suppliers/customers). In brief, what are the fundamentals of a lean and smart circular economy strategy? Can we keep an organizational agility in a such complex domain? How to onboard everyone and to convince them of our approach? How to be sure the chosen topics are the most material and how to avoid greenwashing?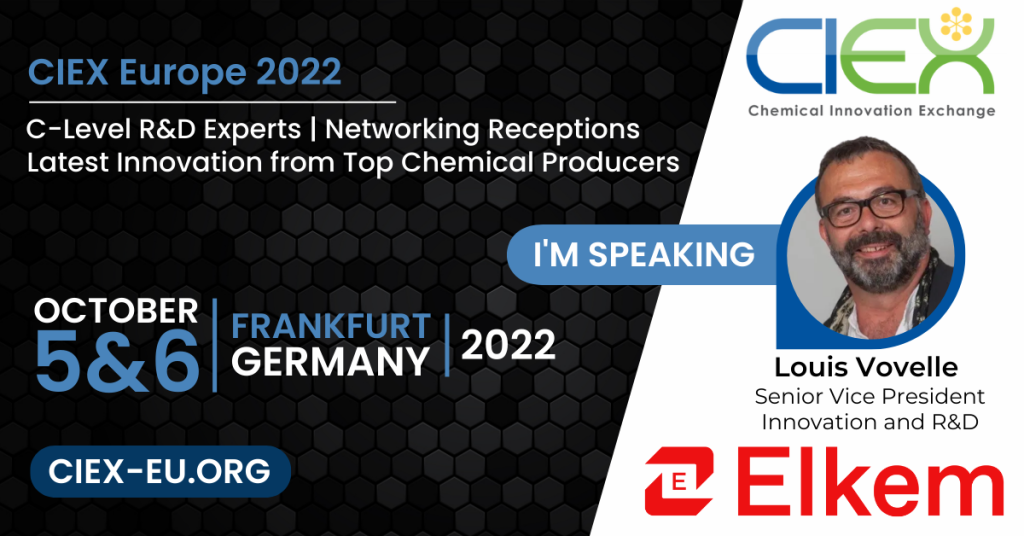 CIEX: Why did you choose the topic of your talk?
Louis Vovelle: The urgency for action on these subjects and a personal appetite for risk taking. It is important for us to compare our ideas with our peers and receive their feedback.
For one, companies and governments are setting ambitious targets for the next decades, through this presentation, we would like to stress that, beyond carbon emissions considerations, collaborations and partnerships will be key to anticipate, prevent and adapt.
In addition, Open Innovation is a strong focus for Elkem and a key lever for growth, we believe that developing this kind of ecosystems on this domain is and will be a strong enabler and a competitive advantage.
CIEX: What motivates you to join CIEX 2022 and what are your expectations?
Louis Vovelle: Sharing initiatives, creating new links and strengthening our ecosystem is mandatory if we want to succeed on Circular Economy. Things are moving too fast and we don't have all the competences and answers inside to find the best and more sustainable solutions. Then, we have to develop these transitions from linear to circular and only partnerships and an open mindset with suppliers, customers, academics will allow us to find the best models and best practices. Looking at the CIEX agenda, my expectations are very simple – To have "shaking" days, great contacts and new projects first at the European level.
CIEX: The need for innovation has been a continued topic for the chemical industry –how would you sum up the current state of the industry, specifically with a focus on its innovation efforts?
Louis Vovelle: If we look at the current state of the chemical industry and its efforts around Innovation, the words that come up are collaborative projects, acceleration and awareness. We all know that we have to change our practices if we want to develop sustainable growth that is acceptable to society as a whole. Innovation in the broad sense involving new business models, new organizations will be one of the key elements of success. Results of innovation to date has been judged mainly on amount and speed of economic success, innovation also now needs to ensure that it focuses on delivering sustainable success. Seeing that companies in the chemical industry have taken up this subject makes me very optimistic but also responsible of our role for the future.

CIEX: What must (chemical) industry leaders do to remain competitive and prepare for the future?
Louis Vovelle: The answer is not so obvious because it must respond to divergent imperatives depending on the time scale. In the long term, the obligation of a "greener" industry will prevail. So, we have a starting point and a strategy for the next 5-10 years. There is of course a way to get there, but the impact of externalities (different regulations depending on the region, Energy balance, Governmental policies, etc.) is more difficult to grasp. One of the ways to maintain our competitiveness is certainly to de-risk our initiatives with even more collaboration and great agility and simplicity in our decision-making
CIEX: Louis, thank you very much. We look forward to hearing more at CIEX 2022!
Hear more from Louis Vovelle and  the chemical industry's innovation strategies and decarbonisation efforts at CIEX 2022. Speakers include C-level representatives from Solvay, Clariant, Nobian, Evonik, GFBiochemicals, Pryme, Dow and many more. Tickets are available at ciex-eu.org.
[adrotate banner="3″]

Further reading:
Synthesis gas: A technology suite key to a low-carbon footprint production of chemicals
Making sustainability a reality in the chemical industry
Gaining competitive advantage with the circular economy
Posted 3rd August 2022 in: Event by Jens Cornelissen
---