The annual CIEX conference is taking place again on October 5&6 in Frankfurt, Germany. In the run-up to the event, we are talking to some of our key speakers. Today we are speaking with Maurits van Tol, CTO for Johnson Matthey who will analyse the role syngas can play in decarbonisation efforts.
CIEX:  Maurits, thank you very much for being with us at CIEX 2022. Without giving too much away –what is the core message of your talk and what would you like delegates to remember?
Maurits van Tol: Our world relies on chemicals – everything from cleaning products to jet fuel, food packaging to building materials. To tackle climate change, it's vital that we decarbonise their production, decarbonising in the sense of us using non-fossil carbon sources and keeping carbon atoms "in the loop". Synthesis gas or 'syngas', a key building block of many important chemicals and fuels, is the gateway to this decarbonised world.
We can enable our customers in the industry to shift away from traditional fossil fuels and make syngas from more sustainable feedstocks like biomass, and even waste, utilizing renewable energy to the maximum extent. Using our suite of technologies, this syngas can then be transformed into the chemicals we need to maintain our current standards of living. The message is that there can be a more sustainable future for the chemical industry, for all of us, and syngas is at the centre of it.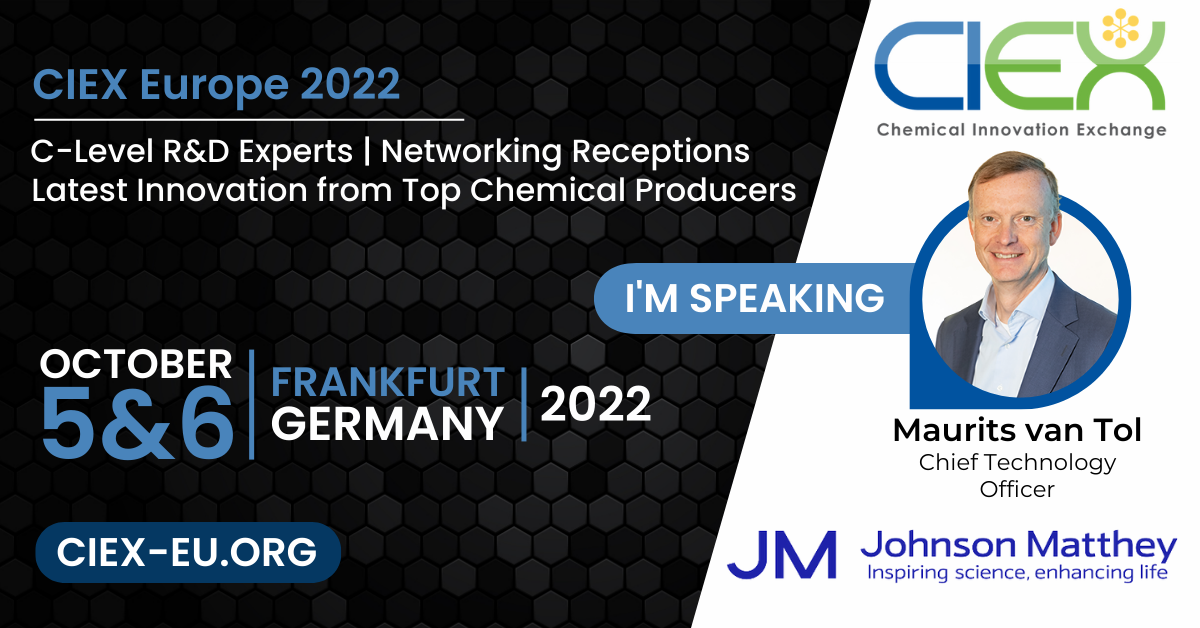 CIEX: Why did you choose the topic of your talk?
Maurits van Tol: As the impacts of climate change increase, the chemical industry is under increasing pressure to deliver on net zero targets. There is technology available now, and more in development, that can help the industry transition and meet this need. As a leader in the syngas value chain, at Johnson Matthey we recognise the important role syngas has to play in a decarbonised world. This talk is an opportunity to share that vision and highlight some of our exciting newly launched technologies that are key pieces in the decarbonisation puzzle.
CIEX: What motivates you to join CIEX 2022 and what are your expectations?
Maurits van Tol: Collaboration is hugely important in innovation, now more than ever with the transition to net zero happening at pace. We need to work together to deliver the solutions that we need, that the planet needs. CIEX brings together leaders and experts from across the value chain and is a great opportunity to combine expertise and share ideas. I expect to hear some engaging talks and be part of some great discussions. And I expect to leave the conference inspired, with a list of potential partners and collaborators that we can work with to build a net zero future.
CIEX: The need for innovation has been a continued topic for the chemical industry –how would you sum up the current state of the industry, specifically with a focus on its innovation efforts and decarbonisation?
Maurits van Tol: Innovation has always been extremely important to the chemical industry. However, traditionally chemical corporations had huge R&D/Innovation departments, inventing many technologies and solutions in quite an isolated fashion. However, with very material transformations going on in the fields of mobility, energy, the development of low-carbon emitting technologies for the production of chemical building blocks, chemicals and fuels for example, this insular approach does not work anymore. The urgency to combat climate change is such that it is "all hands on deck" in a wide variety of collaboration models. Outside-in, collaboration and consortia are key words describing innovation at the chemical industry going forward.
CIEX: What must (chemical) industry leaders do to remain competitive and prepare for the future?
Maurits van Tol: We need to diversify our approach to innovation and that means building external partnerships with innovation ecosystems to complement our internal R&D. Working with universities, start-ups, and other industry leaders, we can work together to evaluate new technologies and accelerate the commercialisation of viable solutions. Through this collaborative approach we can also tap into external capabilities and increase the pace of our innovation through access to cutting-edge digital tools. All of this requires agility and flexibility and is a shift in culture for large corporates, but we've seen the value that embracing 'outside-in' innovation can bring.

Hear more about the chemical industry's innovation strategies and decarbonisation efforts at CIEX 2022. Speakers include C-level representatives from Solvay, Clariant, Nobian, Evonik, GFBiochemicals, Pryme, Dow and many more.
Get your ticket at ciex-eu.org
[adrotate banner="3″]

Further reading:
Game changing collaboration at CIEX 2021, by Sharon Todd, SCI
Making sustainability a reality in the chemical industry
Gaining competitive advantage with the circular economy
Posted 20th July 2022 in: Event by Jens Cornelissen
---