Unpacking CIEX Europe 2023's Vision from Chemicals R&D to innovation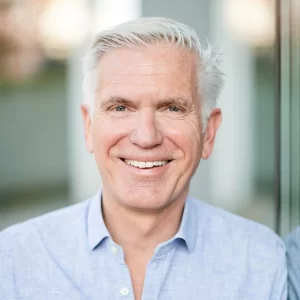 Prof. John Metselaar has turned his 30-year global VP-level leadership responsibilities at Procter & Gamble into expertise in leadership, innovation, strategy, and organizational culture. He now serves as Professor at Solvay Brussels School for Economics and Management and is Director of The Conference Board's (NYC) Innovation & Digital Transformation Institute, as well as its Innovation Councils across Europe, Asia, and the Gulf region. John teaches, speaks, inspires, and advises broader audiences living his purpose of passion for innovation, fascination with leadership, and the power of connecting. He is founding partner of "EI4I – Ecosystem Intelligence for Innovation" and "Includers – unleashing innovation through inclusive leadership
CIEX: Without giving too much away – what is the core message of your talk and what would you like delegates to remember?
Prof. John Metselaar: I'm moderating, not presenting, but during my contribution I'll try to highlight and emphasize that what Europe needs is more innovation not more R&D. Europe is very strong in R&D but continues to find it hard to extract value from all this great effort.  "
Innovation converts creativity and knowledge into new value" – is the definition of innovation I use in my class. And this value that needs to be delivered has multiple dimensions: for consumer/customer, for company, for stakeholders, for planet.
So, how do you turn R&D into Innovation into new Value. What's the role of Chemical Industry's leaders in this? How do you envision the future, and communicate this effectively? How do you enable your organization toward excellent execution? And, often ignored and/or overlooked, how do you engage your people and empower your teams to deliver on your goals and strategies?
CIEX: What motivates you to join the Chemical Innovation Conference – CIEX Europe this year?
Prof. John Metselaar: Ah, I go back with CIEX for some seven years now. I love the combo of "insights and network" which this forum does uniquely well, I have found. As a chemical engineer but having moved on over the years, CIEX keeps me in touch with where I started. And I'm keen to contribute to a better industry hence better economy, hence better society, in particular for Europe who needs it badly these days….  Last, I want to help my friends at Merlien 😊.
CIEX: How do you envision the future of the chemical industry? What are the key challenges to overcome and the opportunities to harness?
Prof. John Metselaar: Well, this is the elephant in the room today. The Conference Board Measure of CEO Confidence™ for Europe polls the Members of the European Round Table for Industry (ERT) – the CEOs and Chairs of some of the best-known European industrial and technology companies with operations worldwide. Our (disclosure, I contributed to this work) spring 2023 reading reflected, dramatically, that over 80 percent of CEOs believe Europe's competitiveness as a base for industry is weakening. And this perception also helps explain why nearly 60 percent of them plan to shift investments and/or operations from Europe to North America within the next two years.  Now this is something to lose sleep over when one's future is linked to Europe's success.
Martin Brudermüller, Chair of ERT's Committee on Competitiveness & Innovation, and Chairman of the Board of Executive Directors of BASF stated "The results of this latest survey put Europe's competitiveness front & centre in the spotlight. The findings are clear and urgent evidence that Europe's future as a leading base for industry remains at risk. Geopolitical tensions are having huge repercussions – and we in Europe are in the middle of this. So all of us – companies and policymakers alike – have to fight even harder to maintain our competitive edge and our leadership in innovation. Our people, our ideas and our Single Market are our natural assets – but they need better conditions to compete globally."
Crisis is a combination of danger and opportunity. How can we take today's crossroads into an opportunity. What role can the chemical industry play, as individual companies but also when they come together as community and influence the EU Commission's direction in a way that allows them to thrive. CIEX could play a meaningful role in helping to achieve the necessary turnaround…..
CIEX: When looking to other regional markets, what lessons can the European chemical industry learn, adapt or perhaps even use to differentiate itself?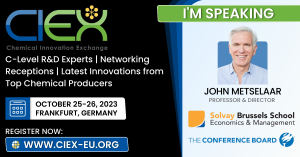 Prof. John Metselaar: As I said earlier, Europe, including the Chemical Industry, needs to gets much better to turn its R&D into Innovation, and into new value.  It needs more investment, more agility, more elan, and it needs help by the European Commission and its national governments to achieve this with, for instance, supportive, enabling, not stifling, regulation.
Let me quote Martin Brudermüller, upon the spring 2023 ERT results, once again: "We can still turn this around – if our institutions and governments take up this challenge. The next survey will take place in the autumn – when the European Commission's proposals to simplify and reduce reporting requirements by 25% are due to be announced – a step which will hopefully bring more optimism and make it easier for Europe to attract investment and jobs in all-important emerging sectors."
CIEX: What is one project or initiative in the industry, outside of your own company and associations that really inspired you, and why?
Prof. John Metselaar: At The Conference Board Europe we did a piece of research early this year to see how companies and their functional leaders in the US and in Europe were looking to integrate the digital opportunities with the needs for sustainability.
Our "Digital for Green" report shared a helpful framework and powerful illustrations and cases for leaders to pull from and explore for their own companies.
How can the Chemical Industry become a cutting-edge force to reinvent Europe's industrial base through effective embrace and adoption of the "Twin Transition" of digital transformation and responsible, balanced Sustainable?
CIEX: Thank you John, we look forward to hearing more at CIEX 2023!
Join 20+ senior chemical executives including CxOs from Braskem, Levaco, Dude Chem, SCI, Solvay, Domo Chemicals, BASF. Limited Seats Available! CIEX is taking place on 25 & 26 Oct – secure your ticket now!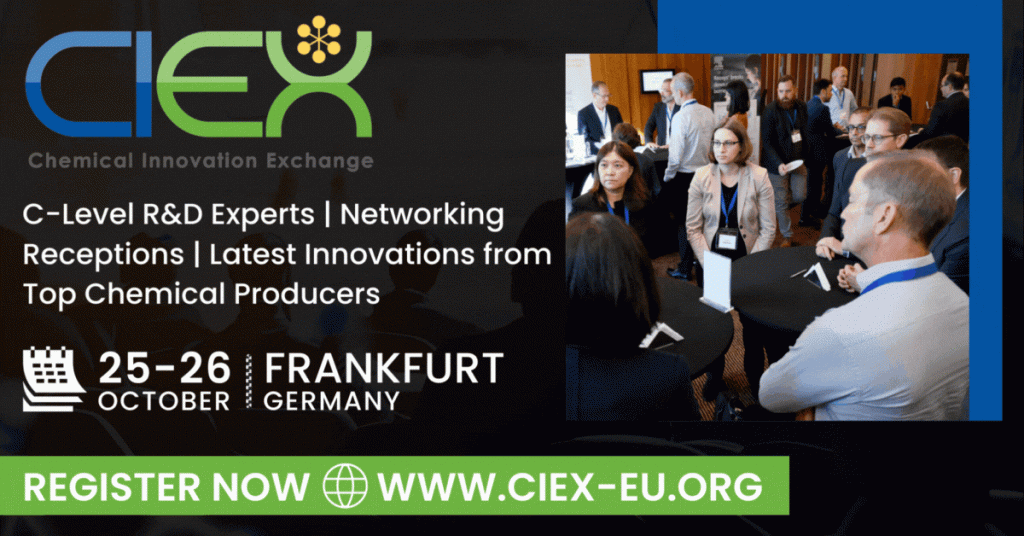 Posted 11th September 2023 in: Event by Elaine Tham
---