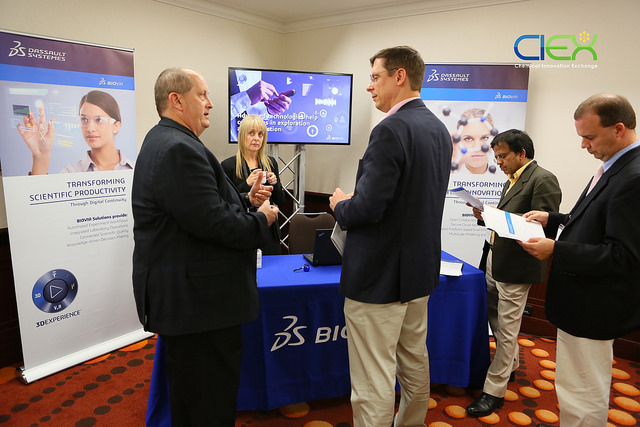 "In today's experience economy, the ability to discover, design, and deliver breakthrough innovation at the molecular level creates transformational value for science-driven enterprises of all industries, and has the promise to provide exponential value to consumers" – Max Carnecchia, CEO, BIOVIA.
Committed to speeding innovation for science-driven organizations, from product ideation through commercialization, Dassault Systèmes BIOVIA provides a scientific collaborative environment for advanced biological, chemical and materials experiences that help science- and process-driven companies develop higher quality products faster and more cost effectively. Ahead of his presentation at CIEX in Frankfurt on September 19th, we had the pleasure of speaking with Dr. Michael Doyle, Senior Director Corporate Development and Principal Scientist of Dassault Systèmes BIOVIA.
Dr. Doyle's informal title within Dassault Systemes, is "Innovation Wizard"! So innovation is directly important to him. BIOVIA, part of Dassault Systemes, has the mission to help improve products, nature and life through science and innovation-based understanding. The idea of innovation is also personally important to him, because his family came from a cotton weaving community in northern England and saw progressive innovation and modernization from hand to water driven, steam driven and then decentralized computer driven garment manufacturing.
He defines innovation as "the process by which societies and communities improve themselves in a sustainable way. Innovation can be about the next style, the next product, a new object, the next manufacturing approach for an object, or a complex combination of objects or materials, but most importantly innovation is about disruption."
When asked about major challenges and opportunities facing the chemical industry and chemical value chain, he believes there are a number out there; it is sustainability, water, market volatility, increasing regulation, changing demographics and the shift to the east. To take these in order:
Sustainable products, processes and materials are critical aspects of both corporate and brand activities. Consumers want products, that are benign to the environment, that are safe to use and that provide the function or superior performance they expect.
Further much of the chemistry that constitutes or contributes to those products involves chemistry that occurs in a water. Water is the essential and key solvent in the modern chemical industry. Its ubiquitous availability, cost and safety have made it a good historical choice. However, with population growth and increasing demands on water resources for food production, this creates a questionable set of assumptions for the future. Sustainability is now mandating the development of alternative chemistry processes.
Market volatility, is disruptive both to the largest factor in the chemical industry i.e. energy costs, but also to the raw materials prices, and the economic consumer environment.
Finally, as we enter the era of specialty, performance, nano and additive manufacturing processes, the tailoring of niche advanced materials for micro-segmented markets will drive and enable a new wave of innovation in materials science and engineering.
Talking about the challenges impeding scientific innovation, Dr. Doyle explains: "Approximately 90% of the information we generate in chemical company laboratories is not used for any knowledge mapping. It is used for a certificate of analysis or a documentation process. This lack of use of in-house data inhibits the innovation process through modelling. In addition, many companies are seeing a dramatic increase in the amount of testing, the cost of testing, the regulatory needs for testing and the sustainability requirements, all of which take cross team and cross functional data. Converting so called dark data into information and knowledge helps with the reduction of experimentation, the accuracy of production and the compliance to procedure."
The scientific innovation process is intrinsically multi-scale. It spans the micro scale of chemical atomistic attributes, through to the meso, voxel, bead or representative volume element to the macro scale of bulk materials, systems performance as well as laboratory, process and QAQC testing. This information then forms a feed into the product lifecycle management approach which in turn feeds systems such as financial forecasting, scheduling and supply chain models. In other words, a true platform approach is a derivative of a product lifecycle staged approach, a multi-scale simulation approach, a scenario planning approach and an open system integration approach. Therefore it is important to manage and connect scientific innovation processes and information with other product lifecycle systems.
We are currently at a convergence of high-throughput analytics with super-computing, and Dr. Doyle finds it very exciting: "Not only have unsupervised algorithms become so sophisticated, the availability of large domains of both structured and unstructured data allow some very complex and indirect models to be built. For example, Jennifer Goldbeck's classical view of predicting someone's IQ by their Facebook like of curly fries. These models, are not mechanistically deterministic but data deterministic, so they can be used to predict many important attributes and even people's liking of a product however they cannot be used to screen a range of compounds or ingredients. In summary I am a strong believer in consensus modelling where the different strengths of large/big data models as well as other categories of models are combined to give the most stable and widest range of prediction capabilities."
We asked Dr. Doyle how chemical industry can support innovation and sustainability with a unified solution and if it is possible. He said: "Innovation and sustainability make in my opinion similar calls on our predictive sciences. While it is true that sustainability is a more macroscopic model approach and innovation is often more microscopic, this is not always the same. Innovation is about insights leading to new approaches and new entities. Sustainability is about new approaches or reducing the impact, cost, complexity, variability of processes and products. However the two converge when you consider the designing for re-cycling or the circular economy. Mercedes for example has product processes and corporate plans to drive 80% recycling and reuse of parts within their products. This requires compromises in product design and in addition requires modifications and optimization of the product recycling process."
Finally, when asked about one key point that CIEX attendees should take from his talk, he summarized: "It has been over 85 years since the book "Brave New World" was published. The rate of change and complexity required in the innovation process has never slackened or decreased. It is this relentless pressure on materials and chemical innovation that drives newer virtual and real ways of working. And the systems are here now."
Along with BIOVIA, several international brands such as Air Liquide, Avantium, BMW, Evonik, Henkel, Honeywell UOP, Oriflame, P&G, PatSnap, PepsiCo are confirmed to speak at CIEX to explore innovation strategies and processes across the chemical value chain. Full details of the event can be found at ciex-eu.org.
[adrotate group="1″]
Posted 2nd September 2017 in: Event by neha
---